Product Knowledge Training for Plastic Constructions Segments with PT Catur Sentosa Adiprana Tbk.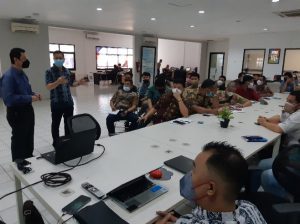 Since the trend for the outbreak of the Covid 19 virus transmission case is getting lower, Sales and Marketing Team of PT. Supratama Aneka Industri (SAI) can be more active in providing product knowledge and motivation to team of PT. Catur Sentosa Adiprana (CSA) for our brand SUPRALITE and SUPRAROOF.
This 2022 activity began when the PPKM level for Java and Bali region at level 2. Team of PT. SAI started by providing training and sharing of SUPRALITE and SUPRAROOF product knowledge to all CSA Jabodetabek region team as many as 30 people for 2 days from April 6th to April 7th, each day we ended with a join visit to customers to provide support in promoting SUPRALITE and SUPRAROOF.
Training was also given to the CSA STUDIO Team which focus on the modern market segment with area of coverage including: Kediri, Tegal, Pangkal Pinang and Manado.
Sales and Marketing Team of PT. SAI confidences that in the year 2022 increase of sales can be achieved with providing more product knowledge to CSA team. Increasing customer awareness of the advantages of SUPRALITE PP sheets and SUPRAROOF transparent roofs with active support and sharing.